bottles (plastic)
boxes (large and small)
calculators, cell phones, keyboards (old)
cardboard appliance box
containers (cardboard and plastic)
tubes (cardboard)
Everyday Objects Are Fun Toys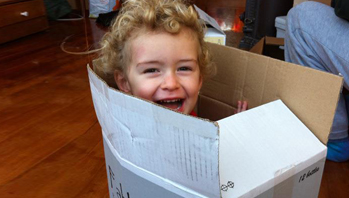 You don't need fancy toys to keep toddlers engaged. In a toddler's hands ordinary objects such as plastic containers and cardboard boxes can be the start of extraordinary adventures. Help toddlers develop language, negotiation, art, math, and engineering skills as you plan, build, and decorate play props and environments together.
A large cardboard appliance box can become a puppet theater, a spaceship, a racing car, or just a comfy spot for reading or having a private conversation. Let toddlers decide together how they want to use the box.
Small shoeboxes or tissue boxes can become grocery store shelves, garages for toy cars, a bed for a baby doll or dinosaur, a bridge for the "Three Billy Goats Gruff," or bins for sorting leaves and rocks.
Plastic bottles can become parade noisemakers, bowling pins, scoops for sand and water, or toys for building structures. They can also be fun to fill and empty.
Oatmeal containers and cardboard tubes can become microphones for a sporting event, spy glasses for an exploration, drums and horns for a concert, tunnels for toy trains, hiding places used in guessing games, or ramps for an engineering experiment.
Plastic containers can become percussion instruments, building materials, or sorting trays for seashells. Budding mathematicians can use them for pouring, measuring, nesting, and stacking experiments.
Retired keyboards, cellphones, and calculators can become cash registers for a grocery store or walkie-talkies at a construction site. Be sure to remove batteries, cords, and all removable parts before giving them to children.