crayons or markers
glue
old magazines
paper
scissors
writing materials
MA Standards:
Writing/W.PK.MA.2: Use a combination of dictating and drawing to explain information about a topic.
Head Start Outcomes:
Literacy Knowledge/Early Writing: Experiments with writing tools and materials.
Literacy Knowledge/Early Writing: Uses scribbles, shapes, pictures, and letters to represent objects, stories, experiences, or ideas.
PreK Learning Guidelines:
English Language Arts/Composition 16: Use their own words or illustrations to describe their experiences, tell imaginative stories, or communicate information about a topic of interest.
Things That Roll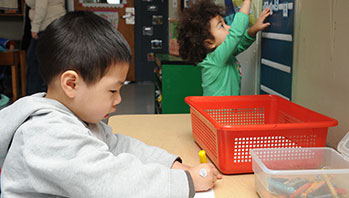 Skill Focus: Concepts of Print, Vocabulary
Tell children they will make their own books about things that roll.
The first page will be the front cover of the book.
Write a title, such as Does It Roll? on each cover and include a line for the author to write his or her name.
Read aloud the title, pointing out the spaces between words, and ask children to name any letters they recognize.
Have them write their names on the line and decorate the cover.
Explain to children that they can use a combination of drawings and pictures cut from old magazines. On the inside pages, write captions as children dictate words and/or sentences to describe or talk about each object pictured.
Talk with children about their completed books and display them in the Library Center for children to share.