Family Connection: Unit 5, Week 1, #2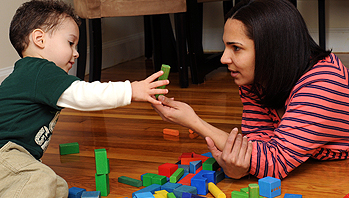 Prepare a necklace for each child out of yarn and a square piece of construction paper. Write the word ramp written on the square.
Ask children to look for a ramp on the way home or at home.
Have children draw the ramp on the back of their ramp necklace and ask a familiy member to help them write a few words to describe the ramp.
Encourage children to wear the necklace to school the next day.
Sing "Good-bye to You" as children depart.
Good-bye to You
(sung to the tune of "Happy Birthday")
Good-bye to you,
Good-bye to you,
Good-bye, friends and classmates,
Good-bye to you.
Together we played,
Together we learned,
And together we're singing
Good-bye to you!