Review the Week Together: Unit 5, Week 1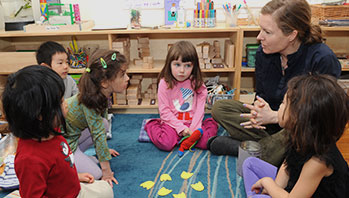 Display the read-aloud books Roller Coaster by Marla Frazee and Mama Zooms by Jane Cowen-Fletcher and the educator's choice read-aloud.
Look at and praise children's artwork, writing, and charts displayed around the room. Then talk about what children did and learned this week, including their work in the centers. For example, say, This week we learned about ramps and slanted surfaces.
Can you tell me one thing you learned about about ramps and slanted surfaces.
Can you tell me where you might see ramps and slanted surfaces outside of this room and around the neighborhood. (playground slide, sidewalk curb, grass hill)
What did you learn about how different objects move fast or slow down a ramp?
Can you describe how you made a ramp?
We also learned about the letter "Zz" and we talked about words like zoom and zip. Tell me another word that begins with the letter "Zz" Now tell me another word that begins with the /r/ sound like in ramp.
​Review the charts made throughout the week. Point out how many new things children learned about ramps this week.
Congratulate children on being observant scientists as they explored ramps. Invite them to take turns naming their favorite ramp activity this week and sharing why it was a favorite.
Let children choose a favorite song or poem from the week to sing or recite together.