Family Connection: Unit 5, Week 3, #1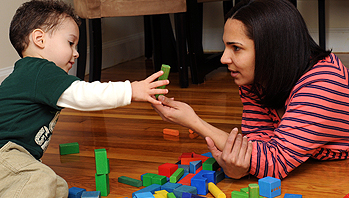 Download and print out the Family Connection Letter to send home with children.
Give each child a paper circle with the word wheel on it. Ask children to look for toys and other things at home that have wheels. Encourage children to bring in an object or a picture of an object with wheels.
Before departing recite "Jack and Jill" and act out the motions with children.
Jack and Jill
Jack and Jill went up the hill
To fetch a pail of water.
Jack fell down and broke his crown
And Jill came tumbling after.
English Language Learners: Invite children to perform favorite songs or rhymes from their cultures and have other children dance as the child sings.