display of books previously read aloud
MA Standards:
English Language Arts/Literature/RL.PK.MA.1: With prompting and support, ask and answer questions about a story or a poem read aloud.
Head Start Outcomes:
Literacy Knowledge/Book Appreciation and Knowledge: Asks and answers questions and makes comments about print materials.
Language Development/Expressive Language: Engages in communication and conversation with others.
PreK Learning Guidelines:
English Language Arts/Reading and Literature 10: Engage actively in read-aloud activities by asking questions, offering ideas, predicting or retelling important parts of a story or informational book.
Read Together: What Do Wheels Do all Day?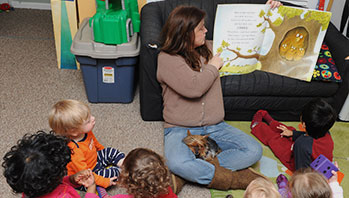 STEM Key Concepts: Identify tools and simple machines used for a specific purpose
ELA Focus Skills: Make Connections, Speaking and Listening, Story Comprehension, Vocabulary
Read aloud What Do Wheels Do All Day? by April Jones Prince. Have children focus on how the people are moving along on different objects with wheels.
Pause as you point to an illustration and ask children to make a connection to another read-aloud story. Have children make connections such as,
Man in a wheelchair/Mama Zooms
Boy in the stroller/City Lullaby
Train on tracks/The Little Engine That Could
Boy on skateboard/Roll, Slope, Slide: A Book About Ramps
Encourage children to talk about how each character uses wheels to move around and do different things.