Review the Week Together: Unit 5, Week 3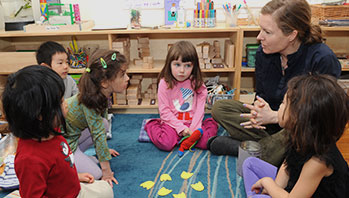 Display the read-aloud books What Do Wheels Do All Day? by April Jones Prince and The Little Engine That Could by Watty Piper. Look at and acknowledge children's artwork, writing, and charts displayed around the room. Then talk about what children did and learned this week, including their work in the centers. Say,
This week we continued to learn about ramps and the steepness of ramps. Tell me something you know about what happens when you roll an object down a very steep ramp.
Tell me what is different about how a ball moves down a ramp that has a smooth surface and a ramp that has a bumpy surfac
Tell me how the texture of an object changes it rolls down a ramp and how it travels when it leaves the ramp
Tell me about a body part you used as a ramp. How did a tube move down that ramp?
We also learned about the letter "Ee" (and "Dd") and we talked about words like engine (down). Tell me another word that begins with the letter "Ee." ("Dd") Now tell me another word that begins with the /e/ (/d/) sound like in engine.
Let children choose a favorite rhyme or song from the week to recite or sing together.