Count Your Fingers and Toes!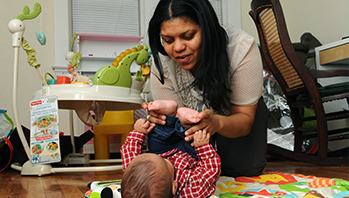 Babies are fascinated by their fingers and toes. When you find your baby's attention focused on his hands or feet, talk to him about what he is looking at, and touch and count aloud each finger or toe.
Then share a song or rhyme that has you counting again: One little, two little, three little fingers (touch each finger or sing about and touch toes) or One, two, three, four, five—once I caught a fish alive! (touch each finger or toe).
Repeat this activity often--you can count fingers and toes in the bath, at bedtime, while you wait at the doctor's office or for the bus--almost anytime and anywhere!