Colors and Clothes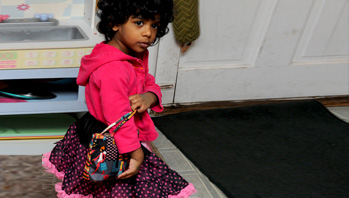 Your child probably has a favorite color and a favorite article of clothing in that color that he wants to wear day after day.
As your child gets dressed in the morning, use the opportunity to talk about the different colors, shades, and tints of color in his clothing.
Before your child gets dressed, draw his attention to all the different colors around you. Talk about them and and point to them.
Open your child's drawer or closet and comment on the different colors in his clothing. Then ask him what color he feels like wearing today. Have him find clothes of that color. As he searches, have a conversation about the different colors in his clothing. Use color words like dark, light, bright, and dull. For example, You have two pairs of yellow socks. Do you want to wear the light yellow pair or the dark yellow pair?
While you go about your morning or evening routine, make a game out of noticing the color similarities you see between your child's clothes and the clothing of other family members or friends.