Act Out a Ramp Story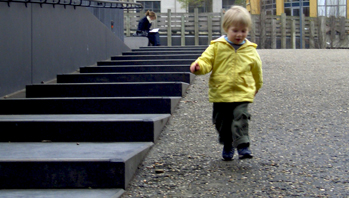 Explore human-made ramps with your child around the neighborhood, such as wheelchair ramps, sidewalk cuts, slides, or even a roller coaster. Talk about how the ramps make moving and working easier, and sometimes more fun, for people.
Read a story about ramps and then act it out together.
On your next trip to the library, look for books about ramps. Two possibilities are Roller Coaster by Marla Frazee, about a girl who takes her first roller coaster ride, or Mama Zooms by Jane Cowen-Fletcher, about a little boy who rides around on his mama's lap as she moves around in a wheelchair.
At bedtime, read the story together. The next day, read the story again and act out it out. Make it fun by using exaggerated movements and voice to emphasize all the motion and sound words together.
Point out natural ramps such as hills or sand dunes when you are out and about.
Look for a hill your child can roll down and walk up.
Help him understand how ramps can make moving easier by asking him if it was easier to get up or down the hill.