building items: blocks, cardboard boxes and tubes, crepe paper streamers or ribbon (caution tape), cushions, hard hats, props, sheets, toy trucks, etc.
cell phone with camera (optional)
Building Site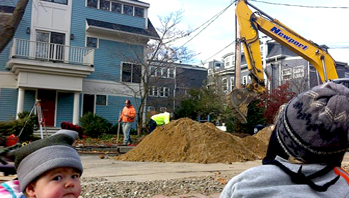 Look for a building site that you can visit in your neighborhood and have fun with science and math! Together you and your child can point out different shapes, count windows, or describe textures of the materials used in the building.
Plan your visit before you go.
Get familiar with building and the tools you might see at the site.
Look at books about building and about tools and materials used in building. Here are two examples: Building a House by Byron Barton or Tap, Tap, Bang, Bang by Emma Garcia.
Visit the building site together. You may want to take pictures of things you see and talk about.
Find a safe place to sit and watch what's happening.
Talk about what you see. Say the names of any types of workers, machines, tools, or materials you know. Have your child repeat the names with you.
Watch how the machines work and talk about how they make a job easier for the construction workers.
If there is a worker on break, your child might be able to ask questions about what she sees.
Revisit the building site from time to time to see how it has changed.
On another day, you can make a building site in a corner of your living space. (see materials list) Use the pictures you took to build some of the structures. Together act out being different workers you saw at the site as you build.