plastic containers of different sizes and shapes, some with lids (juice bottles, ketchup bottles, margarine tubs, spray bottles, water bottles, yogurt containers)
water toys (funnels, plastic tubing, sponges, turkey baster, watering can)
Bathtub Science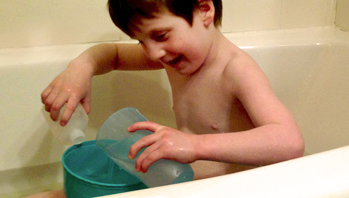 The bathtub is a natural place to explore water. Gather water toys and containers of different sizes and shapes and put them in the tub with your child. (see materials list)
Let him explore pouring and moving water from one container to another.
As he fills different containers, talk about how water pours, trickles, drips, and gushes out of different containers. How can he make the water flow fast? Trickle out?
Hold up a clear cup full of water. Talk about the shape of the water. What shape is the water in the cup? What will happen to the shape of the water when you pour the water out of the cup and into the bowl? Explore using other containers.
Talk about which container holds more or less water.
Add sponges and a washcloth to the tub. Explore how water gets absorbed, or soaked up, by some materials. Have your child dunk the sponge into the water and then challenge him to get the water out of the sponge.
On another bath day, use the containers to explore how things sink and float.
You can store the water toys in a container that you can pull out whenever your child wants to play in the tub.