Face to Face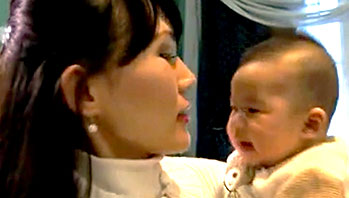 Whenever you talk to your baby, be sure to make lots of eye contact so that he knows that you are talking to him.
For a relaxing back-and-forth exchange, sit face to face with your baby or hold him so you are facing each other.
Ask a simple question, such as, How are you, sweet baby? and wait for his answer.
Imitate the sounds your baby makes as you continue talking back-and-forth to each other.
Say something different or try a new sound and see if your baby will copy you, such as Did you hear the dog bark? Ruff-ruff!
Talk to your baby any time you can and make sure to tell him how much you enjoy talking with him.