Baby Face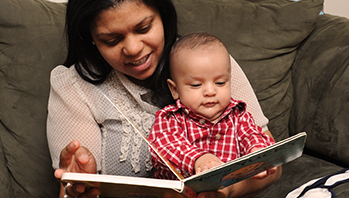 You can begin to read to your baby at any age, but once he's able to sit in your lap with his head steady, you'll be able to look at books together. He'll be interested in looking at and touching the pictures, especially if they are photos of baby faces. Babies love babies! They are also very interested in faces and in pictures of people.
Share books you find at the library or bookstore such as Baby Baby by Vicky Ceelen, Global Babies by The Global Fund for Children, or Baby Faces by DK Publishing.
Point to each photograph and talk with your baby about what he sees: This baby is smiling! He looks happy! Or Look, this baby has her eyes closed. I think she's sleeping.
Your baby likes things that are familiar to him and will enjoy looking at the same books over and over. He learns from seeing and hearing the same things many times. You can put a favorite book in your bag so you can pull it out and read together while you ride the bus, wait in line, or wait for grandma to arrive!