Family Photo Book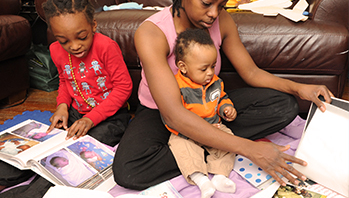 Make a homemade book with family photos to share with your baby.
Use a small photo album or create a sturdy book by pasting your pictures onto pieces of cardboard that will fit inside plastic zip-type sandwich bags.
Bind the bags by sewing or stapling them together. (If you staple, cover the staples with heavy tape so your baby doesn't scratch her fingers.) You can include words with your pictures, but you don't have to.
As you "read" the book together, point to and name the people in the photographs and talk about their relationship to your baby or what they are doing in the pictures.
You can also make books about your baby's day, the family pet, or objects of interest to your baby, like a book about things with wheels. (Your baby may want to interact with the book, so be sure that she cannot bite or pull off any plastic from the sandwich bags or parts of the book.)
If your book is small enough, you can place it in your bag and pull it out and "read" when you are riding in the back of the car with baby, at the library, waiting in a long line, or even at a restaruant.