Noisy Reading!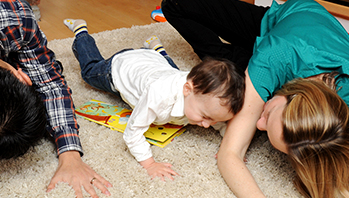 Active toddlers need active books and active reading! Put books into his active hands that have pages with flaps to lift and open, interesting textures to touch and feel, or unusual smells to scratch and sniff.
Give your toddler time to look, touch, and open flaps by himself in books such as Wild Animals by DK Publishing or Where Is Baby's Belly Button? by Karen Katz. These books can be even more interactive when you talk and ask questions as you read. Ask your toddler to tell you what he thinks is behind a flap, or have him tell you how a texture feels.
Make other books interactive for your toddler by giving him something physical to do. When you read books with actions, such as Hand, Hand, Fingers, Thumb by Al Perkins, he can beat a drum (or upside-down bowl) along with what you read about the monkey in the book. Or let your toddler jump up each time you read that an animal jumps in Jump! by Scott M. Fischer.
Sharing books with your toddler doesn't always have to be a quiet experience. There's no rule that says you have to sit down to read, so:
Get up and move after you read a page.
Go outside and after you read about textures, let your baby feel different textures outside.