Putting the Pieces Together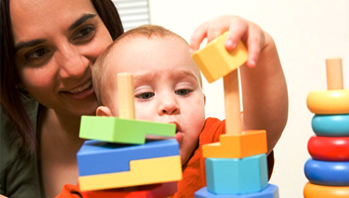 Your older baby is starting to figure out connections between objects. Help her see how things fit together with toys that nest or stack.
You can also find plenty of simple puzzles she can try right in the kitchen, like matching pots with their lids, nesting measuring cups or measuring spoons, and fitting plastic mixing bowls inside each other.
A shoebox (with a simple lid) that has a toy or interesting object for your baby to discover inside will also give your baby a lot of satisfaction. Show her how to put things inside the box and take them out again.