Poetry in Motion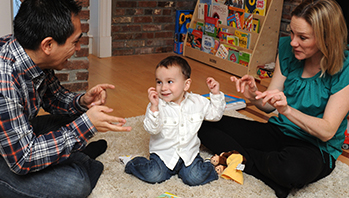 Poetry and rhyme have a lot to offer your toddler. Sharing poetry lets her hear sounds, patterns, and richness of language that will help her to say and understand new words.
Read aloud from books of poetry such as:
Here's a Little Poem: A Very First Book of Poetry by Jane Yolen
My Very First Mother Goose by Iona Opie
¡Pío Peep! Traditional Spanish Nursery Rhymes by ​Alma Flor Ada
Even if your child doesn't understand what all the words mean, she'll have fun with the sounds and rhythm of poetry and be excited to hear and learn more.
With your older toddler, start a poem or nursery rhyme that you've shared many times and let her finish it. She will enjoy showing you that she knows what comes next. Favorite poems you read together often become easy to remember, and soon you'll be reciting Robert Louis Stevenson's "The Swing" or acting out "Jack and Jill" at the playground or walking to the market together.
With all toddlers, the rhythm of a poem and a soothing voice can also help them transition to another routine or settle down for a nap.
Your librarian or child care provider will be a good source for recommending more poetry books that are good for sharing with your child.