Peek-a-Boo!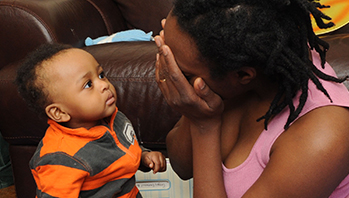 You understand that even though something may be hidden, it still exists. But your baby needs your help to make this exciting discovery. Playing Peek-a-Boo with your baby will help her understand that people and things are still there when she can't see them.
Try different versions of the game, such as partly covering your baby's face with a blanket that she can pull off, or hiding your face behind a towel, toy, or curtain.
Repeat this activity frequently and encourage all members of the family to play.
Peek-a-Boo is a great game to connect your baby with older siblings.
Peek-a-Boo can be played anytime and anywhere. Play it on the bus, when in the grocery line, or while you wait for Grandpa to come home.