Nature Walk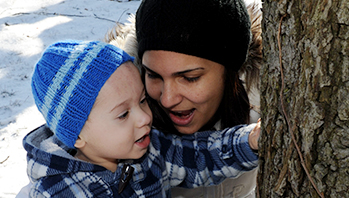 Take a walk outside together and experience nature. Explore the sidewalk, a park, forest, beach, lake, pond, or stream with a specific interest in mind, such as bird or animal watching, bug or rock collecting, or leaf or pinecone gathering.
Follow your toddler's lead. Take an interest in what interests him—even if it is not what you came for! Help him notice both new and ordinary things outside.
If you come across a bug, bird, plant, animal, rock, or other object that your toddler is very curious about, you might take a picture to help you find out more about it later.
When you get home, you and your toddler can make your own book, collection, or display to help you remember the adventure. Your toddler may want to draw pictures, choose and arrange photos or objects, label items with their real names or names he makes up, or dictate a story for you to write.