Cooking with Math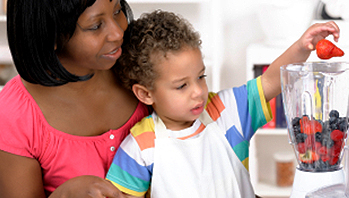 There's a lot in the kitchen for your toddler to do besides banging pots and pans.
Have him help you cook! Start by looking at the recipe together. As you read it aloud, point out the ingredients and amounts needed. Talk about the steps you will need to take to cook together, using words like first, then, next, last, before, and after: First, you can get the pot for me, then I will put it on the stove.
Give your toddler specific, safe jobs like shopping for or gathering ingredients: We need 2 onions; measuring: This measuring cup holds 1 cup and we need 2 cups of rice; or pouring: Pour the water in the pot first, then pour the rice in.
Let him help you set a timer so you'll know when the food will be done.