Writing with Stuff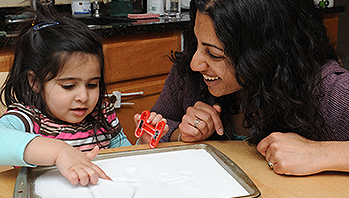 You can encourage your toddler to scribble with more than just paper and crayon. As your toddler goes about his daily explorations, he may discover on his own that the bar of soap will "write" on the side of the tub, the mirror, or on the shower door. Or that his dripping ice pop can make interesting designs on the sidewalk.
Provide various tools and materials for sensory experiences that give good prewriting practice.
Try a bucket of water and paintbrush to let your toddler "paint" on the sidewalk, fence, or deck.
Pour less than a cup of flour onto a baking tray (with raised sides) and offer your toddler different utensils to drag through the flour to "draw" designs.
Find a nice muddy patch or wet some sand and give him a stick to "write" with.
Your toddler may need your help holding his writing tool, so be nearby to support his hand. (Be careful to supervise your child when he uses sticks, and make sure they're not too sharp.)