Play Write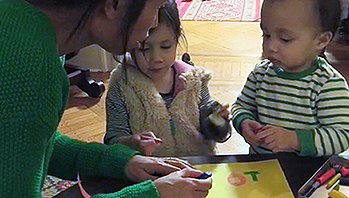 Include writing and drawing in your older toddler's pretend play.
When she's playing kitchen, give her paper and crayon to make her shopping list.
When she's playing birthday party, have folded sheets of paper, stickers, and crayons for making party invitations.
When she's playing school, have a whiteboard and marker or a chalkboard and chalk for your toddler to use.
When she's playing doctor and you're the patient, make sure she has a notepad and marker so she can write you a prescription when you ask for one.
Work together and create lots of mail to fold and then stuff in envelopes to play postman. (Save used envelopes for this activity.)
To encourage your child to use the materials, keep a variety of paper, paper scraps, old envelopes, notebooks, crayons, and markers in a special box along with her other playthings.