Self-Portrait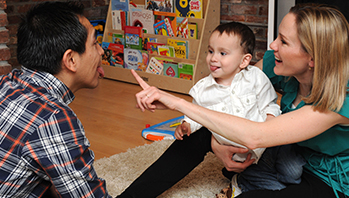 Spread a large sheet of paper on the floor (the white side of heavy wrapping paper works, or tape together several paper bags that you've cut open). Make sure the paper is longer than your child.
Have your toddler lie on his back in the middle of the sheet of paper.
Use a thick (washable!) marker to trace around your child's entire body. Include fingers and toes if possible.
Hang the drawing on the wall so that it is the same height as your toddler.
Write your toddler's name on the drawing above his head.
See if your toddler can identify any of his body parts from the tracing. Ask: Where's your head? or Do you see any knees? Then let him use markers to complete the picture.
He may want to have a mirror nearby so he can check what he looks like as he works.
He may not be interested in making a realistic drawing at all. Let him express his creativity and decide what he wants to do. Then show him how interested you are by asking him to explain his ideas to you.