Math by the Book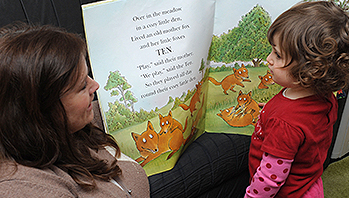 Your toddler is learning to understand that a quantity of objects can be represented by a numeral. When you read counting books with your toddler, she can see pictures of objects and their numbers together.
Look in the library for One Duck Stuck by Phyllis Root; 1, 2, 3 to the Zoo by Eric Carle; Tails by Matthew Van Fleet; or Olivia Counts by Ian Falconer.
You can make your own counting book by gluing pictures or small objects onto sheets of paper that you staple together. Make a separate page for each number. Work together on one page at a time so she can focus on one number.